Oxidized PAN blended fabric
Date:2023-08-14 Visits:44
Key words: oxidized PAN blended fabric, Oxidized PAN fabric, fire resistant fabric, fire retardant fabric, heat resistant fabric, high performance textile manufacturer, source factory, high-tech enterprise, provincial specialized special new enterprise
Today we will introduce KEYSTONE Oxidized PAN blended fabric
Product Information:
Item: FRCP270

Structure: Woven
Composition: 60% aramid +40% oxidized PAN fiber
Width: 150cm±5%
Weight: 270gsm±5%
Performance: Heat and flame retardant, anti-static, acid and alkali corrosion resistance, high strength, high wear resistance, high tear resistance
Application: special clothing, fire clothing, tent, industrial, mountaineering clothing, etc., can be covered with aluminum foil
Product features:
1. Flame retardant and high temperature resistant, intrinsically flame retardant
2. Uniform fabric, oxidized PAN fiber and aramid blend more evenly
3. Wear and durable
4. A variety of ratio specifications can be selected and customized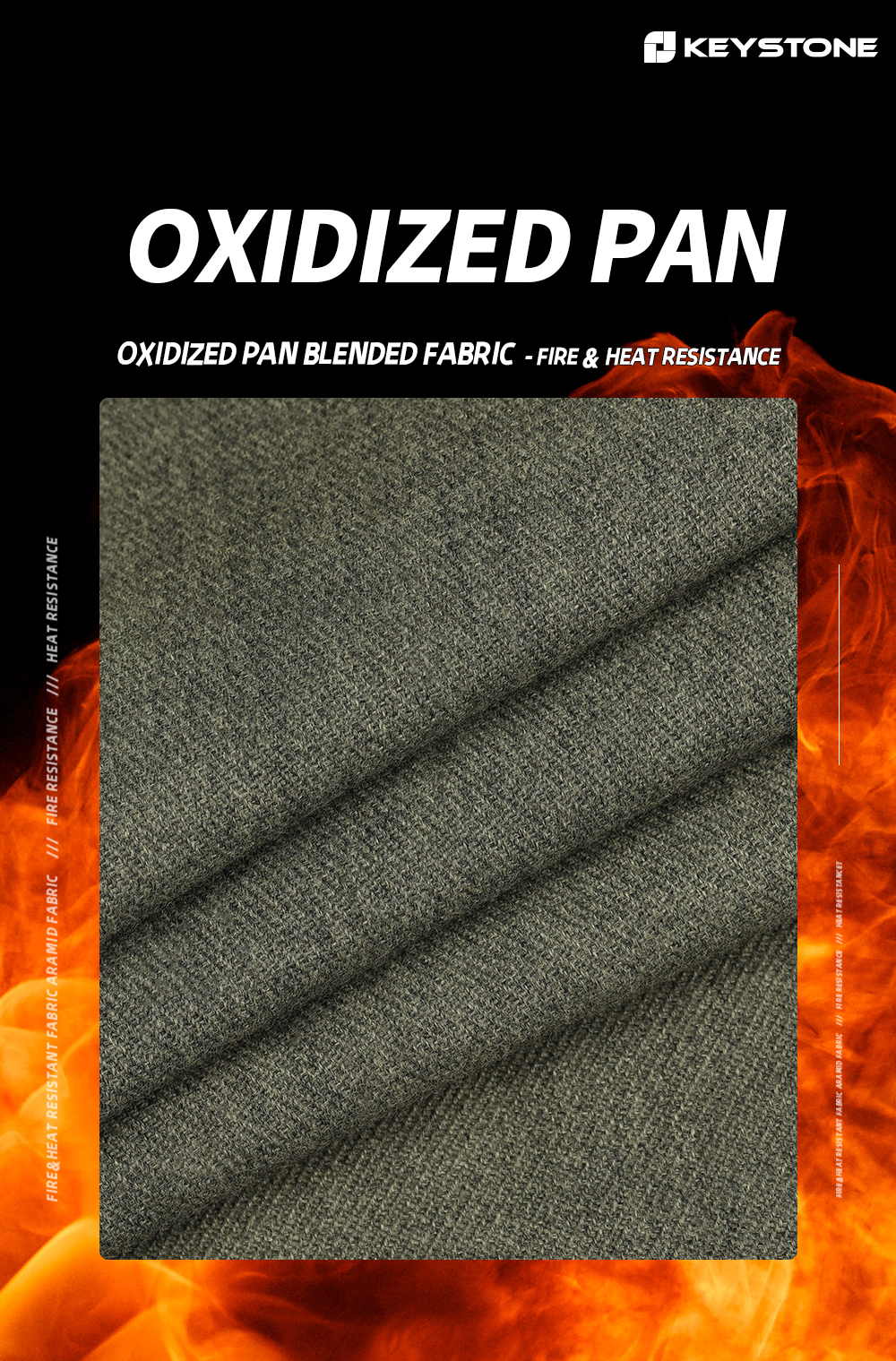 When you are looking for high quality oxidized PAN blended fabric for different industries, try KEYSTONE products! We are a 22 years high performance textile manufacturer, source production factory, with 60000 square meters of workshop area. We are a high-tech enterprise in China and a provincial SRDI(Specialized, Refinement, Differential,Innovation) enterprise, Our products include flame retardant yarn&fabric, anti-cutting yarn&fabric, industrial textiles, functional clothing yarn and personal protective equipment. We have obtained more than 40 R&D patents at home and abroad. With 22 years experience and "science and technology change textile" belief, our products have exported to Japan, South Korea, Europe, the United States, Southeast Asia and other 25 countries and regions. KEYSTONE will continue to provide customers with professional high-performance textile production platform.

Pls feel free to contact us if you're interested in or any requirements, customization is available.

We have always focused on offering the best quality products at competitive prices.
We take great pride in all of our offerings and are tirelessly searching for innovative ways to improve on what our customers need.
Contact us:
Email: key014@kexutex.com
CHANGZHOU KEXU TEXTILE CO., LTD
Address:188 Ding'an West Rd, Wujin District, Changzhou, Jiangsu, China